SAFETY
GENESIS SMART SENSE
Human-focused innovation that anticipates your needs before you do.
By applying corrective steering assistance when necessary, Lane Keep Assist (LKA) protects the driver from unintended lane changes. Legal

x

The Genesis Lane Departure Warning System with Lane Keep Assist is designed to notify the driver if the vehicle is leaving the lane of travel by shaking the steering wheel and flashing a display signal. Under certain circumstances, it may also provide light steering counter-assist to help guide the vehicle back into its lane. It is a supplemental assist, and does not replace the need for extreme care and attention by the driver.

The Lane Departure Warning System will not work under all circumstances. It functions when it is able to detect painted lane markings. It cannot function if the lane markings cannot be seen clearly if the lines are faded, or during dusk without headlamps on, with snow, rain, sleet, dust, leaves or standing water on road, sudden changes in brightness such as shadows, tunnel exits/entrances, low sunlight angle causing reflections, multiple lane markings or criss-crossed lines, tar crack sealer and cracked or broken road surfaces. It also may not function on very rough roads, when walls, curbs or concrete barriers are close by, or if following another car too closely. Since it "sees" the lane markings using a camera in the upper windshield area, it is imperative this area be clear and free of blockage such as stickers, dirt, snow, tinting material, markings and labels. Avoid putting objects on the dashboard that may reflect light or images onto the system camera area.

Lane Keep Assist is not a substitute for safe driving practices, but is a supplemental assist only. The driver is responsible for always maintaining command and control of the vehicle and must keep hands on the wheel at all times. Do not drive if you are drowsy. Drivers must read their Owner's Manual thoroughly before using Lane Departure Warning and Lane Keep Assist.

The smart technology in the Genesis G90 extends to cruise control. A radar sensor installed in the front of the vehicle detects the distance from the car ahead, and automatically maintains the distance and speed set by the driver. Even after a full stop, automatic speed and distance control is engaged within 3 seconds after the car ahead starts moving again. Legal

x

Smart Cruise Control (SCC) is not a collision avoidance or warning device. SCC is for highway use only and should not be used in poor weather, heavy or varying traffic, or on winding or slippery roads. Driver remains responsible to slow or stop the vehicle to avoid a collision.

By automatically applying the left or right front brake when it senses vehicles in the driver's blind spot, Smart Blind Spot Detection helps prevent blind spot collisions. Legal

x

Never rely completely on Blind Spot Detection (BSD) and be sure to use proper lane changing procedures. BSD may not detect every object or vehicle and will not prevent accidents. Always look over your shoulder and use your mirrors to confirm clearance. See Owner's Manual for further product details and limitations.

Driver Attention Alert analyzes driving patterns and vehicle position within the lane. If it detects driver fatigue or inattentive driving patterns, it provides a courtesy audio and visual alert.
1
AUTOMATIC EMERGENCY BRAKING WITH
PEDESTRIAN DETECTION
The Automatic Emergency Braking system employs both a camera and a radar sensor to engage Automatic Emergency Braking power when a crash is unfortunately imminent. Legal
x
Automatic Emergency Braking (AEB) with Pedestrian Detection detects pedestrians, but not in all conditions. AEB is designed to assist drivers to avoid, or reduce the severity of, collisions with cars that have slowed or stopped in front of them. It is a supplemental assist and does not replace the need for extreme care and attention by the driver. Automatic Emergency Braking may not stop the vehicle completely and will not avoid all collisions.
2
PRE-ACTIVE SEATBELT
The Genesis G90 puts driver protection at the forefront by automatically tightening the driver's seatbelt when it detects a quick turn, slippery roads, acceleration, or a change in direction.
3
MULTI-VIEW CAMERA SYSTEM
The G90's Multi-view Camera System features 4 external cameras, a forward-view cornering camera, 2 side-mirror cameras, and a rearview camera, all controlled via the Driver Information System (DIS).
SAFETY
SAFETY WITHOUT COMPROMISE
Protection from every angle.
1
ADVANCED HIGH
STRENGTH STEEL (AHSS)
With a chassis constructed from Advanced High Strength Steel, the strong and sleek Genesis G90 is a fortress of safety.
2
ENHANCED
VEHICLE BODY RIGIDITY
A rigid platform constructed from Advanced High Strength Steel helps the Genesis G90 excel in safety and performance.
3
9-AIRBAG SYSTEM
State-of-the-art airbags safeguard riders against collisions by adjusting the expansion pressure based on passenger size and severity of collision.
COMFORT
FIRST-CLASS COMFORT
An evolution of interior design that stimulates both body and mind.
1
FIRST-CLASS MODERN ERGO SEAT
Hailed as the epitome of comfort by the back and spine specialists at Aktion Gesunder Rücke (AGR), the 22-way adjustable, ergo driver seat contours around you to provide support precisely where you need it.
2
REAR SEAT INTEGRATED MEMORY SYSTEM (IMS)
The Genesis G90 takes everyone's comfort into consideration with its available Rear Seat Integrated Memory System. The system remembers passengers' preferred seating positions and instantly readjusts them with just the touch of a button.
3
REAR SEAT ENTERTAINMENT SYSTEM
With dual 10.3-inch HD screens, the available Rear Seat Entertainment system turns the spacious cabin into a custom, luxury theater experience for two lucky rear passengers.
COMFORT
SILENCE IS GOLDEN
Cutting-edge sound optimization technology and noise-absorbing design surrounds you in a cocoon of silence.
1
INTERIOR SOUND INSULATION
Double layered soundproof glass on all doors blocks outside noise and vibration. The exceptional level of silence creates a serene oasis.
2
19-INCH ALLOY WHEELS
Sound-absorbing, hollow-structured 19-inch alloy wheels reduce tire noise enhancing the cabin's tranquility.
3
LEXICON® 7.1 DISCRETE SURROUND SOUND AUDIO SYSTEM
Surround yourself with a theater of sound from 17 high-performance speakers delivering 3-dimensional dynamic audio.
PERFORMANCE
REFINED PERFORMANCE
A responsive and stable ride that delivers a dynamic driving experience.
POWERTRAIN
LAMBDA 3.3L TWIN-TURBO GDI V6 ENGINE

Max Power / 6,000 RPM

365 hp

Max Torque / 1,300-4,500 RPM

376 lb.-ft.

TAU® 5.0 GDI V8 ENGINE

Max Power / 6,000 RPM

420 hp

Max Torque / 5,000 RPM

383 lb.-ft.
Adaptive control suspension reinforces steering stability during inconsistent road conditions to deliver a smooth, elegant ride even at high speeds.

The system provides optimal performance by sensing real-time road conditions and the ability to configure powertrain and steering. The driver can select four different driving modes including Smart, Sport, Eco, or Individual Mode. Smart Mode automatically adjusts between driving modes, whereas Individual Mode customizes your G90 driving experience to accommodate your preferred driving style.

In the Genesis G90 even the AWD system is evolved. HTRAC can sense the road conditions and adjust to provide a smooth, luxurious ride.
DESIGN
ELEGANCE IN DESIGN
Appeals to even the most discriminating senses.
1
CREST GRILLE
The signature Crest Grille is a symbol of strength and confidence that demands respect.
2
FULL LED HEADLIGHTS WITH DYNAMIC BENDING LIGHT
3-dimensional LED headlights come equipped with a sophisticated auto-leveling system to keep light parallel to the road surface regardless of vehicle load. The lamp's design creates a striking contrast with the magnificent "Crest Grille."
3
PROPORTION
Sculpted with iconic rear-wheel-drive proportions and short front overhang, the G90 flaunts a bold athletic stance that won't go unnoticed.
4
SIDE MIRRORS WITH GENESIS LOGO APPROACH LAMPS
Assuring you'll always make an entrance, large outside mirrors are equipped with approach lamps that project the Genesis flagship logo when you approach.
5
LED TAILLIGHTS
LED taillights, formed by unique vertical lines, radiate unparalleled sophistication.
6
MODERN MEETS CLASSIC
An elegant profile merges with a luxurious rear design to give the Genesis G90 a modern, yet timeless appeal.
DESIGN
DESIGNED AROUND YOU
A luxurious, sensory experience centered entirely around you.
The Genesis G90 rewards your senses with impeccably tailored, rich, smooth, and supple full-grain Nappa leather upholstery.

G90's interior is elegantly adorned with top-grade, genuine wood trim.

The G90 interface is intuitively designed to create a more fulfilling luxury experience. Everything the driver sees, hears, and touches has been arranged and optimized for exceptional comfort and convenience.
TECHNOLOGY
GENESIS CONNECTED SERVICES
You and your car, fully integrated.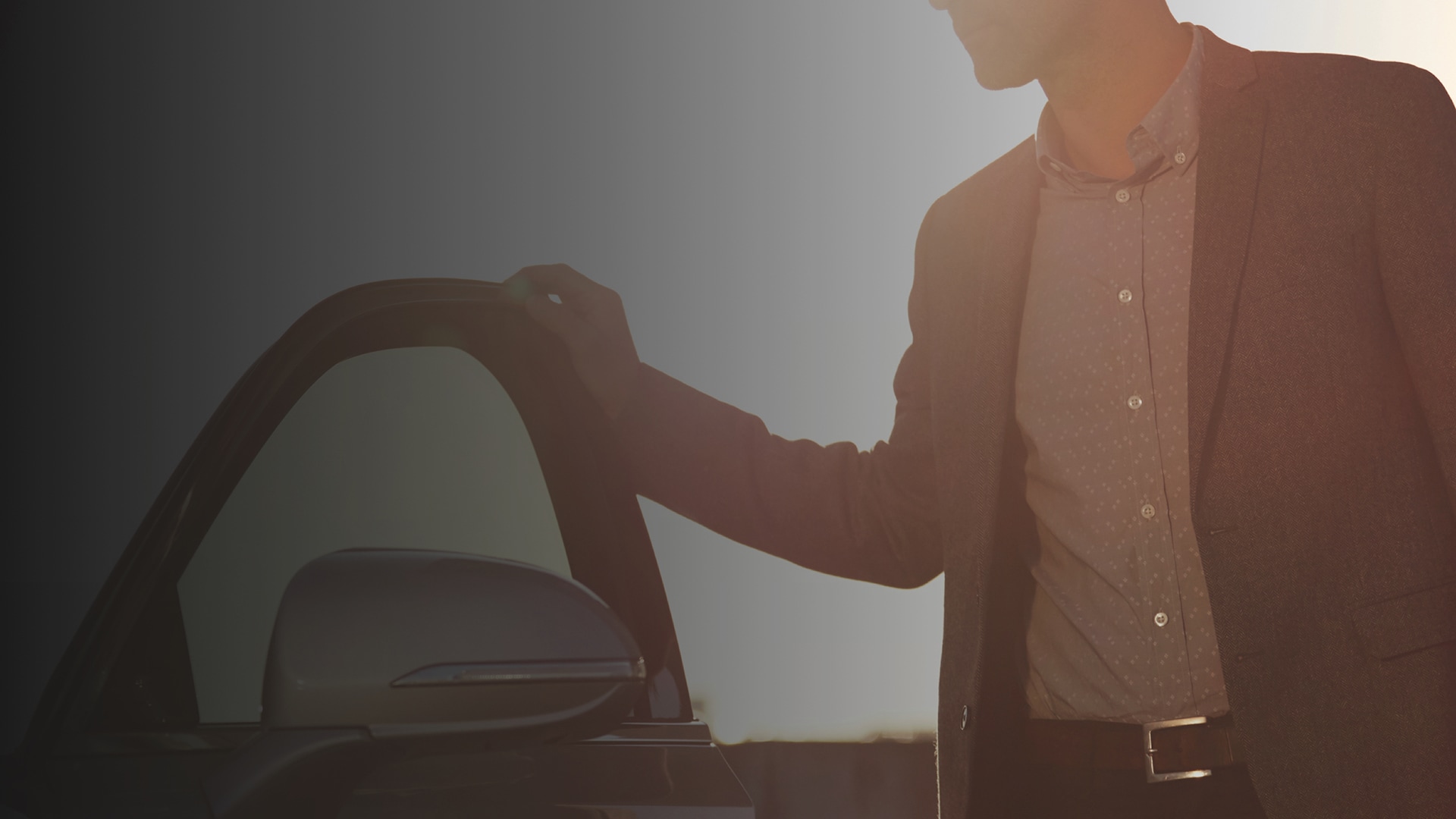 CONNECTED CARE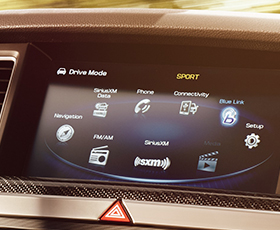 Further delivering on the Genesis promise of exceptional customer service and owner satisfaction, you're linked to critical information and services like Enhanced Roadside Assistance, Collision Notification, vehicle diagnostics, maintenance reminders and more.
REMOTE ACCESS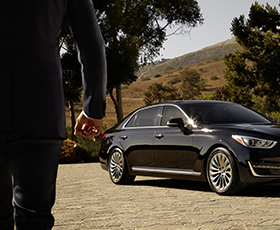 Remote vehicle functions make owning your Genesis even more convenient. Features include Remote Start with Climate Control and engine timer, Remote Stop, Remote Vehicle lock or unlock along with remote control of the horn and lights.
GUIDANCE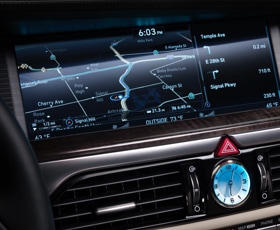 Leverage the power of Google™ to find, enter or send destinations or Points Of Interest to your vehicle via voice response, touchscreen display, or through the Genesis Connected Services app.
NEXT SPEC